Fundraising
We are an independently funded charity and there are lots of ways you can get involved to help us raise funds.
Fundraise as you shop
Give as you Live Online

Give as you Live Online is the free and easy way to raise vital funds for North Yorkshire Citizens Advice and Law Centre, just by shopping online.
You can support us and raise donations whenever you shop online at over 4,000 leading retailers, including John Lewis & Partners, M&S, eBay, Expedia and Argos.
Simply click here, add your name and email, and sign up. Don't forget to use the link when you're shopping online from now on.
Other ways to get involved
Your own challenge or event
Why not set yourself a fundraising challenge, such as running a marathon in a month, or hold a fundraising event, like a quiz or talent contest?
Once you've got your idea, simply create an online fundraising page then ask your friends and family to sponsor you or take part too.
Feel free to tag us on social media using @CANorth_Yorks on Twitter and @CitizensAdviceNorthYorkshire  on Facebook – we'd love to hear from you!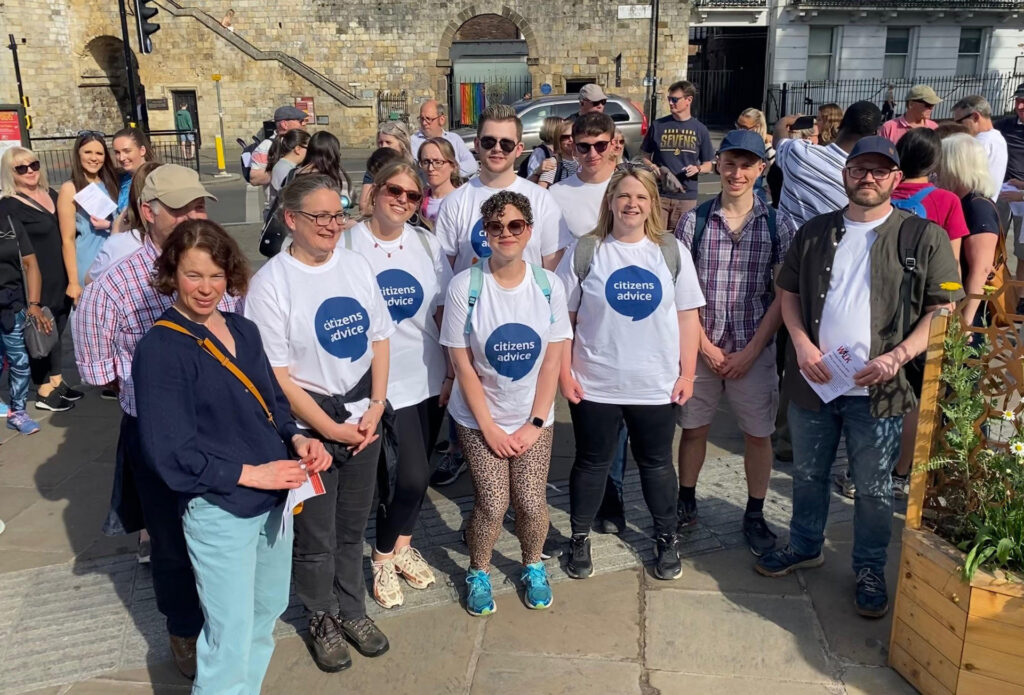 Community events
We are very happy to support local community events as this helps build awareness across the community of what we do.
Please get in touch if you are running an event and you would like us to be there!
Public speaking
We also welcome public speaking opportunities from community groups, businesses, churches, libraries, schools and colleges.
We are happy to share more information about the work we do and our impact in the community. Get in touch about your event.
Other fundraising
If you would like to speak to us about fundraising for North Yorkshire Citizens Advice and Law Centre please get in touch.
Leave a legacy
Legacies are vital to our work. Any gift you provide, no matter how large or small, will help us to support the next generation.
For more information about making a will, go to the website Remember a charity in your will. We recommend speaking to a local solicitor or will writer if you're considering making or updating a will. By having your will professionally written, you ensure everything is covered.
If you would like to leave a legacy in your Will, you will need to provide your solicitor with our name, registered address, and charity registration number so they can write the necessary clause, reflecting your wishes in your will.
Name: North Yorkshire Citizens Advice and Law Centre
Charity registration number: 1146084
Registered office: 277 High Street, Northallerton, North Yorkshire, DL7 8DW